Most applications work absolutely normally when prepared in the Fresh Start machine when using DaDesktop (DD). But there are one or two applications that due to the cloning process do not work as expected, and need a few extra steps to allow normal operation.
System Details
Hyper-V Server 2019 and above (other versions will probably exist same behaviour)

Installed using Windows 10 / Win 2019 Server template
Fresh Start Fix Notes
Please note this is a generic guide to fixing this application when using within Fresh Start. Steps may be different depending on your exact set up configuration.

Summary - Fix on Fresh Start as below. Hyper-V has a problem with duplicate mac addresses with the External switch when cloned from the FreshStart machine, so we either remove the external switch in the FreshStart machine before cloning, which is what I explain in detail below), or leave the external switch in place in the FreshStart machine and then remove from each participant's machine after cloning.

 
Fix process
1. Below shows the Hyper-V Manager application. Right-click to select the Virtual Switch Manager dialog box.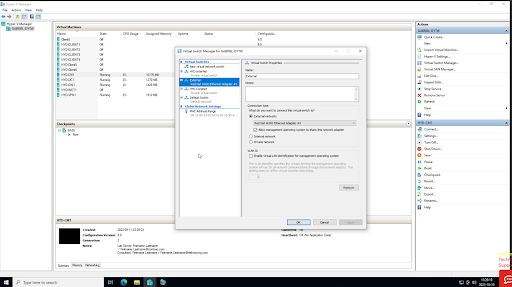 2. On the Virtual Switch Manager dialog box as below, select the 'External' switch as shown, click 'Remove' to remove this external switch from Hyper-V. Press OK, and save config if necessary. Close Hyper-V manager application.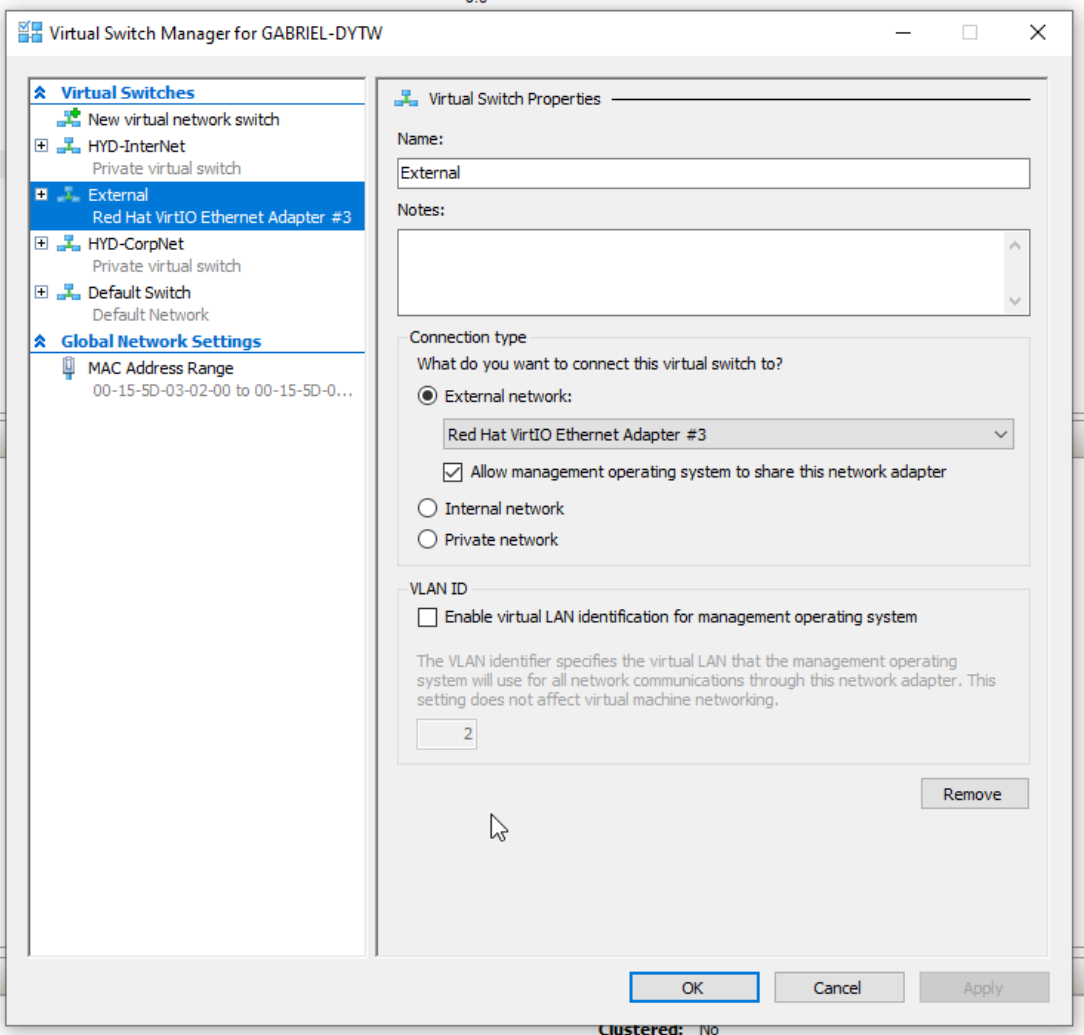 3. Continue with FreshStart machine configuration as required and once the configuration is complete shutdown the machine from inside the VM, waiting until the machine is fully stopped. Then Clone the FreshStart machine to the Trainer and Participant's machines as required.
The Hyper-V server should now run correctly on the Trainers and Participants' machines. Without this change, participants may see each other's machines instead of their own machine, as the external network card is cloned creating duplicate mac addresses with the External switch when cloned from the FreshStart machine.
Please get in contact with DaDesktop Support via the chat app if you still experience issues, and we will be happy to help.